We've just opened a trial advertising programme, direct-selling advertising space on FifeWeather.co.uk. The profits from this advertising will go towards the site running costs, as well as upgrading the weather station's capabilities.
For the limited trial, we're offering spaces on the narrow-page banner, which appears at the top of each "narrow" format web page on FifeWeather.co.uk (this constitutes a majority of the pages on the site). For example:

Depending on the results of the trial, we will potentially open up other advertising spots on the site, including the "sky-scraper" adverts and leader-board style adverts that appear in other areas of the website.
Currently we're offering a maximum of five rotating adverts on this banner position, for a cost of £18 per month (including VAT). One of the five adverts would appear each time the page is loaded/viewed, in a "round robin" fashion. This would ensure each advertiser gets the same number of advert impressions each month.
Each advertising customer will be provided with their own login to the site's advertising administration interface, where statistics on the number of advert impressions, as well as the number of "click-through's", can be viewed. Following is a real example from the front page of the admin panel, for one of our existing clients: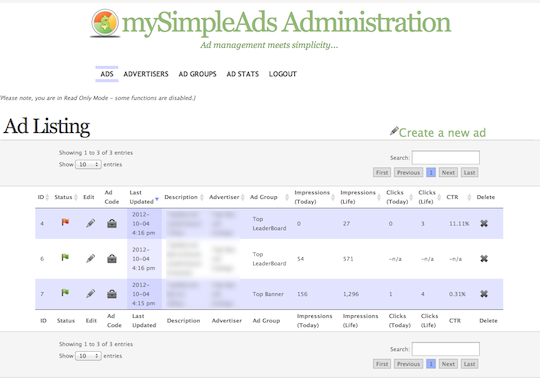 (More detailed statistics are also available in the Ad Stats section of the admin interface).
Graphic artwork can be provided in the form of a "static" full-colour banner graphic (468x60 pixels), or as a flash animated banner of the same size. There are a number of free flash-banner creation sites where you can create your own, professional looking flash banner (such as bannersnack.com or flashvortex.com). Or let us create a flash banner for you, for an additional one-off charge of £24 (inc VAT). Once the artwork has been created, we will then take care of setting up your account with us, and getting your advert online.
Payment can be made via direct bank transfer, and VAT invoices will be issued (via e-mail) for all purchased advertising. There is an initial minimum commitment of 2 months advertising, to help offset the overheads of the initial account setup. After the initial two months, billing will revert to a rolling monthly basis. (All fees are payable in advance).
If you would like to take part in our advertising programme, or have any questions about the program, please drop us a line. We would be delighted to have you as an advertising partner on our site!