The component of the website which lists and tweets the Met Office's weather warnings, has been completely re-written, to improve notifications.
The most notable improvement is that now only weather warnings applicable specifically to Fife will be notified. Any warnings issued for the general Met Office warning area of "Central, Tayside and Fife", but which do not include Fife in the affected area, will not be notified or tweeted.
This is contrary to the previous setup, where any areas within the Met Office's "Central, Tayside and Fife" catchment, would generate a notification.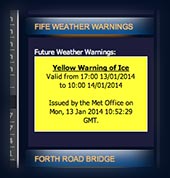 Hopefully this should make it clearer to our visitors, as to which warnings are actually applicable to Fife. In addition, we will now tweet out when Fife weather warnings start to become effective (i.e. at their start time) and again, when they expire.
We have also enabled experimental flood-warning notifications, for SEPA flood warnings. This means we will send a tweet whenever SEPA issue, update, or expire a flood warning that affects Fife. Due to the relative infrequency of these warnings, it hasn't been possible to fully test this functionality at this point.
You can find any current or future warnings issued for Fife, in the "Fife Weather Warnings" sidebar module, in the right-hand column of the website (example pictured).
We hope the above proves to be a useful improvement to the site.