After the spell of cold and snowy weather, it won't have gone unnoticed that the Atlantic is back with vengeance, with a good dosing of wind and rain. Tonight sees yet another low pressure system, with a deep central pressure of 956mb, skirt the north west of the country.
As it passes, it will bring some strong winds across the Northern half of the UK.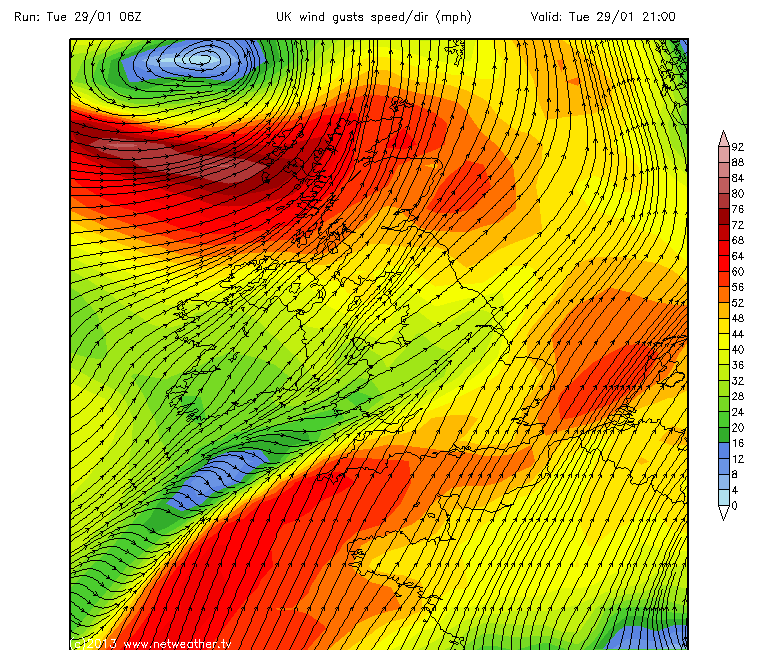 Locally in Fife, gusts in excess of 50MPH (gale force) are forecast for exposed locations tonight, into tomorrow. Indeed the MetOffice has issued a yellow "be aware" warning for that period, encompassing Fife. The strong winds will be preceded by rain, as the main front moves through this afternoon.
Looking beyond the windy and wet weather expected later today, the unsettled conditions look set to continue for the remainder of the working week. Towards the weekend, forecast models indicate a brief return to cooler weather, although the return to colder temps is not expected to last as long as the previous stint.
As always, you can keep up to date with the latest forecast here.
(Chart courtesy NetWeather.tv, reproduced with their kind permission).