Now that the high-resolution weather models are in play for the next 48 hours, a better picture of snow potential for this weekend is starting to emerge.
It's looking like today's snow potential will be confined to sporadic snow shows over higher ground, whilst lower levels will receive a wintry mix or just the odd, good old fashioned rain shower. Either way though, not a great deal of precipitation (in any form), is expected over Fife today.
Tomorrow however, looks a little more interesting, especially later in the day when a band of precipiation will move in from the NW over Scotland. As this band edges into Fife from the west, it looks set to deliver snow to most parts of Fife. This outcome is supported by several high-resolution weather models, one example being represented in the chart below (pink indicates snow, green indicates sleet/snow, blue indicates rain).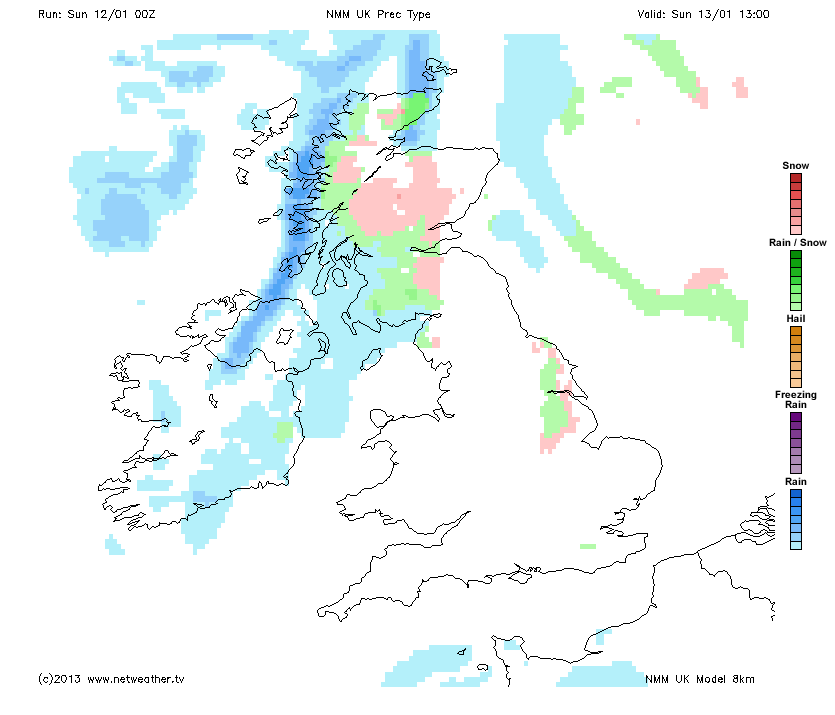 Into Monday, snow will again be a feature, with the potential for some further reasonable deposits over the Kingdom. However this is currently outwith the timeframe of the high resolution forecast models. So a clearer picture for the start of the working week, will develop as the weekend progresses.
As always, I will aim to provide updates if things change significantly over the coming 24 hours.
(Chart courtesy Netweather.tv, reproduced with permission).