For the past few days, the forecasting models have been hinting towards a setup that would pull down cold air from the Arctic, potentially bringing the first of this seasons widespread, sub-zero temperatures to Fife.
This can be seen on the below GFS thickness chart (which represents the temperature of the atmosphere), where the blue (cold) air can be seen moving down from the North: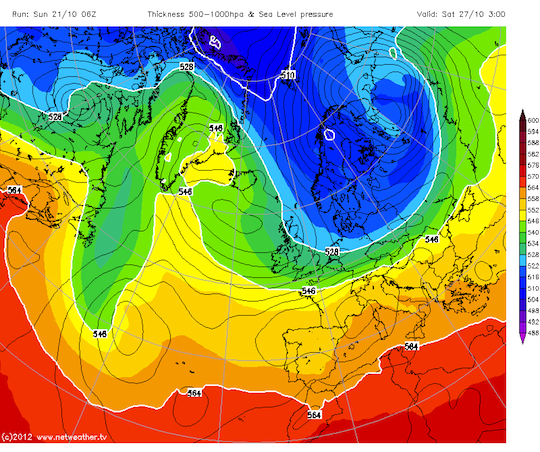 However if you're not fond of such cold temperatures, you may be pleased to know it's far from a done deal just yet. Just how cold things will get towards the end of the week, will depend very much on the track of a high-pressure system that is forecast to end up positioned to the North West of Scotland, between Scotland and Greenland, come Saturday. The further west that high pressure moves, the greater the opportunity for the Arctic air to be dragged over Scotland.
Either way, its likely to be a chilly end to the week, but whether we see the mercury dip below freezing across Fife come the weekend, will remain to be seen.
Keep updated with our forecasts, which are updated twice daily.